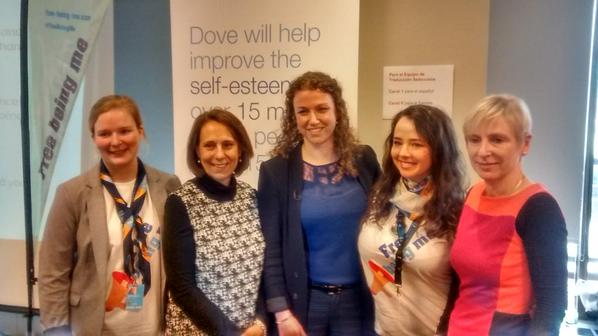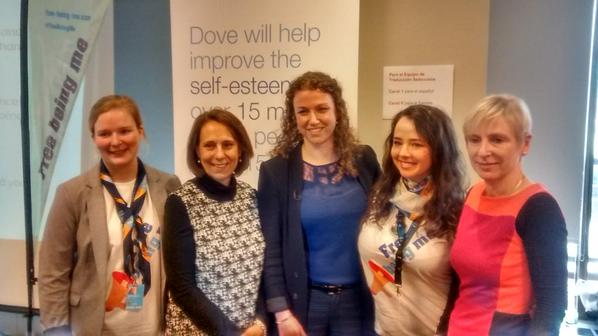 On Friday 13 March, WAGGGS and Dove ran our very first global advocacy event for Free Being Me, right in the heart of the UN, at the Commission on the Status of Women (CSW).
Bringing together participants and speakers from around the world, we aimed to raise awareness of the pressing need for the issue of body confidence to be addressed at the highest level, and to bring governments to account for their promises made in the Beijing Platform for Action, 20 years ago, around improving girls' body image and self esteem.
To a packed room of around 130 people, our speakers outlined our three key 'asks' to governments and civil society organisations – three actions to take that can make a real difference. Check out our handout here!
The asks are: 
Collaborate: coordinate the efforts of civil society, NGOs, policy makers and corporate industry to bring about effective, society-wide change
Establish a baseline: establish a baseline understanding of the nature, implications and prevalence of girls in your country by funding a standardised survey
Ensure education efforts are effective: ensure the body confidence and self esteem education you offer girls and young women has proven effectiveness.
Introduced by Meaghan Ramsey, Global Director of the Dove Self Esteem Project, each of our speakers introduced the asks and discussed the importance of each, and examples of what some governments and organisations are already doing.
Helene Reardon-Bond, Deputy Director of the UK Government Equalities Office, spoke of the importance of working together, describing the Be Real campaign set up in the UK as a partnership between government, civil society and business – a great example of a new campaign that has amazing potential.
Nanette Braun, Chief of Communications, UN Women, spoke of the global need for action on body confidence and self-esteem, and of the work still to be done on prioritising this by governments and civil society – Nanette spoke particularly of the need to involve the media in this effort.
Emily Milton-Smith, WAGGGS delegate, spoke passionately on the serious need for action on body confidence and the effects she has personally seen of low body confidence in young people, as well as giving some telling statistics – 6 in 10 girls miss out on activities and opportunities that could benefit them and help them reach their potential because they are worried about the way they look (Dove 2010 study). She also outlined the need to gather baseline data, to help understand the issue better and how to solve it. There are already great examples, including Girlguiding's Girls Attitudes Survey, which is being used as a basis for a call to action to political parties at the upcoming UK elections.
Inari Timonen-Nissi – WAGGGS delegate, spoke about the real difference Free Being Me is making to girls in her MO in Finland and her own positive experiences of the programme, and the importance of using educational programmes based on evidence, to make a real difference!
Body confidence messages
Finally, everyone had the opportunity to take part – after being asked to consider in small groups how they could make the three 'asks' happen, participants were challenged to write their advice to a girl in their life on how to be body confident. It was fantastic to be able to showcase non-formal education in action, and we were all inspired by the messages we heard. Here's a flavour! Look out for more opportunities to be involved in body confidence advocacy coming soon!
What's your body confidence message? Why not tweet it to the world #FreeBeingMe?